---

---
How will this "new" technology impact you,
your family and society?
What are the positive and negative consequences?
Get a unique perspective on technology
presented in plain English

Bud Freund brings over 20 years of IT
and teaching experience to you
---
Parenting & Technology Confusion?

Do your children manage your technology or
do you?



Are your pictures, videos, music and documents in more than 1 place?



Can you spy on your kids?


Do you know if your kids are online doing homework, social media or gaming?

Business & Technology Frustration?

Do you manage your technology or does technology manage you?


Could your business survive a hack?


Who has the keys to your kingdom?


Has your business transitioned from technology as a cost center to a profit center?
---
---

Tech For Parents - Hot Links


VIDEOS
Marty Heiser Show Interview - 14 min 8 sec
---
Bud Freund presents technology information to
parents, business owners and "children of all ages".
Sold-Out Workshop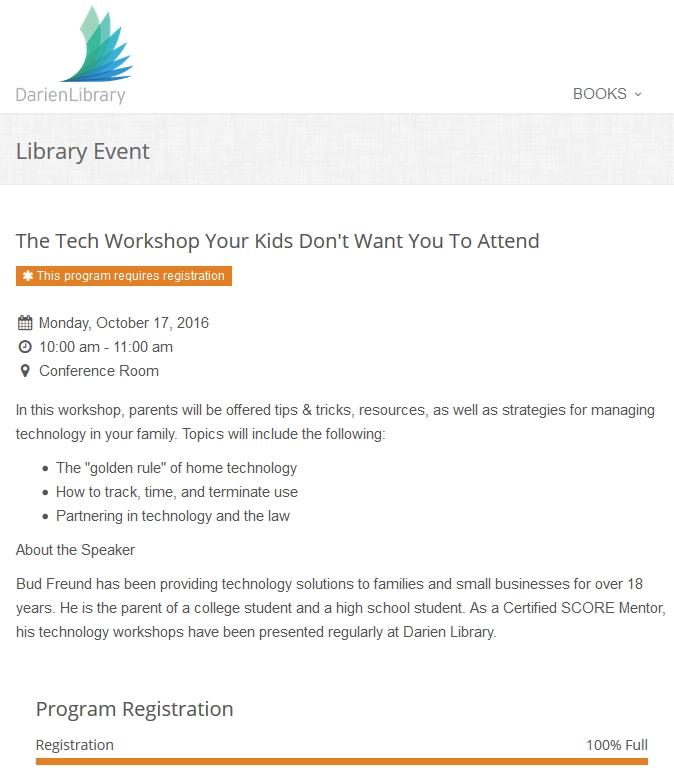 ---
Testimonials
"I am LOVING my new power!!!! Got biggest pushback from the daughter but fortunately she figured out the power shift & every request has been met with "OK, yes and thank you". Transformation in progress!!!! - Lisa M.
"If your computer is having any kind of problem, Bud is the guy to call. Even better, Bud is a pro-active troubleshooter who is always looking out for his clients. We have recommended him to colleagues who are also extremely impressed with his work." - Jan M.
"Got tech problems? Call Bud. He's terrific. He explains everything in plain English and never makes you feel stupid. That's a real skill because I AM tech stupid. - Matt B.
"Bud is a great it consultant and an amazing speaker. I have known and worked with him for several years and continue to be impressed." - Tom G.
"I met Bud several years ago and have retained him on several occasions to help develop and advance my technology platforms. I have found Bud to be honest, reliable and always on target for the most reliable and cost effective solutions. I would highly recommend Bud." - Harris M.
"It's so great to have someone who will come to your house to help you with computer glitches. Bud has come to my house several times and has helped us resolve our issues quickly and at a reasonable price." - Susan N.